Download this manual (.PDF, 0.58 Mb)
1. Introduction
Congratulations on choosing the ATN IR850 Supernova; an extremely powerful, long range infra-red illuminator with adjustable mount, that is perfect for hunting and search and rescue use.
Before using your IR850 Supernova, please read this manual carefully. Also, refer to the troubleshooting tips for any issues/problems.
2. Specifications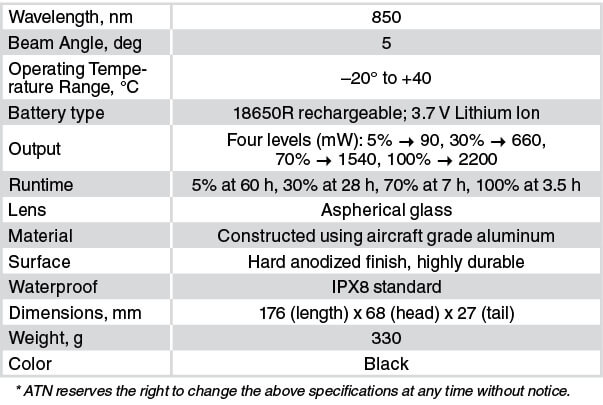 3. Features
Constructed from aircraft grade aluminium.
Surface: hard anodized finish, highly durable.
LED: Using high power emitter with a long lifetime.
Waterproof to IPX8 standard.
Four modes of operation.
Flawless white beam.
Uses single lithium 18650 battery.
Removable grip ring.
Easy rail mounting system.
Accessories: battery charger.
Two-year Warranty.
4. Tips when first using
Remove the tailcap, insert a 18650 battery, positive of the battery towards the head.
NOTE:
Please hold the battery tube (not the brightness control ring or neck) when tightening/loosing the tail-cap.

5. Battery
CAUTION:
Only use an 18650 battery to operate this light, do not use 2 CR123 batteries as they may damage the device.

The IR850 Supernova is available use single 18650R.
Unscrew the Tail cap from the Battery Tube, until it is free.
Place Battery within the Battery Tube, observing proper battery polarity.
Screw the Tail cap to the right.
NOTE:
Do not use two or more rechargeable lithium batteries in series.


6. Modes
The IR850 Supernova has 4 stage output-Low at 5%-30%-70%-100%.
These modes can be accessed by turning the brightness control ring.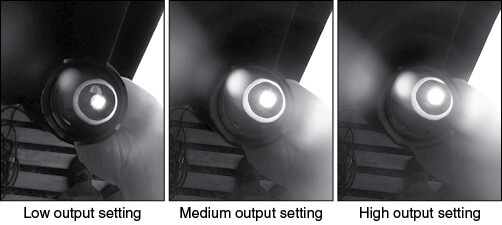 7. Focus
Turn the light to maximum output and shine it on a wall 8~10 m away. To focus the beam, hold the lens head in one hand and turn the battery tube with your other hand. Turn clockwise or counter-clockwise till the focus is to your liking.
8. Adjustable mount
Attach the IR850 Supernova, adjust the mount as follows:
Unscrew the four screws [1] securing the top of the bracket [2] and the bottom [3] half of the adjustable mount.
Place the top and lower parts of the adjustable mount around the IR850 Supernova.
Using an Allen wrench, secure the four screws [1]. Do not apply excessive torque.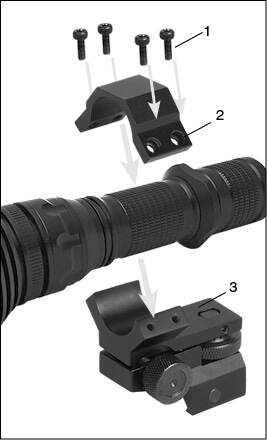 9. Adjustment
To adjust the windage and elevation, the two round dials must be turned/adjusted.
The round dial on the left is your elevation adjustment. The flat dial is your windage adjustment.
Adjust each dial until your IR light is centered with your picture.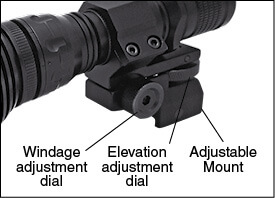 10. Maintenance
To prevent wear and retain water-resistance it is a good idea to lubricate the threads and o-rings if they become dry.
11. Change switch cover
Unscrew the switch cover retaining ring use a forceps (or round nose pliers). Then replace the switch cover and replace the retaining ring.
12. Troubleshooting
Light Doesn't Turn On
Battery tube does not tightened against the Neck or the tail-cap does not tightened.
Light Dimming
Battery may be faulty. Try another fully charged battery.
Battery may need charging. Charge your battery, and retry.